Meet Mick Collins author of The Unselfish Spirit
An exciting chance to meet our latest author, Mick Collins, author of The Unselfish Spirit: Human Evolution in a Time of Global Crisis. Mick Collins will be launching his new book at Watkins Bookshop this Thursday 4th September from 6.30-7.30pm, with a half an hour talk, and time for questions and book signing.
Watkins Books at 19 Cecil Court, London WC2N 4EZ is an esoteric bookshop in the heart of London. Established over 100 years ago,  one of the world's leading independent bookshops specialising in new, second-hand and antiquarian titles in the Mind, Body, Spirit field.
This is an incredible and inspiring book. It took me a while to read it as some of the ideas were new to me, but it was totally worth it – the more I read the more all the pieces fitted together. It is full of astonishing, real-life stories which moved me to tears. It made me understand some of the deep human processes that are contributing to the current state of the planet, and the book is alive with creative ideas and inspirations for how we can come together to co-create an improved future for this planet. This book has made me think differently about my connection to the world, and I would highly recommend it. – Sophia from Amazon
Mick Collins has had an interesting career, including working as a builder's labourer, infantryman, heavy goods truck driver, and living in a Buddhist Monastery. Mick has also worked as a therapist in an acute mental health setting and a specialist psychological therapies team. He currently works as a Lecturer in Occupational Therapy and is a Director of Admissions within the Faculty of Medicine and Health Sciences, University of East Anglia.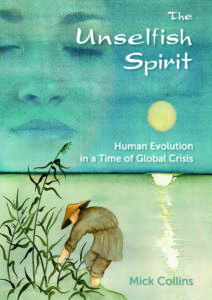 To learn more about The Unselfish Spirit: Human Evolution in a Time of Global Crisis, click HERE.
Mick Collins has recently written an article about the book in Permaculture magazine 81, available HERE and on www.permaculture.co.uk HERE.