Meet the Authors: Féidhlim Harty
Féidhlim Harty is director of FH Wetland Systems Ltd. environmental consultancy, based in Ennis, Co. Clare.
FH Wetland Systems specialises in designing and planting constructed wetlands, reed beds, zero discharge willow facilities and other natural sewage treatment systems. He also designs and advises on storm water wetland design, wetland habitat creation and consultancy and other areas of environmental protection and enhancement.
He has had an active input in the EPA Code of Practice , particularly on constructed wetland design sizing and maintenance sections. He also delivers workshops and seminars on natural wastewater treatment
systems for engineers, architects, local authorities and site assessors, as well as the general public.
Passionate about genuine environmental sustainability, he has written Get Rid of Your Bin – and Save Money (with the aim of removing any need for a national incineration programme), which was published
in 2009 by Mercier Press. He has developed a community orchard start-up initiative called Garden of Eden Projects Ireland, which provides assistance to local groups wanting to create their own edible landscaped communities throughout Ireland.
Books by Féidhlim Harty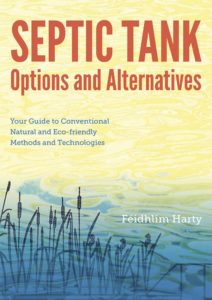 Septic Tanks & Alternatives
A user-friendly guide through the maze of selecting an eco-friendly sewage treatment option for your home.
With so many different treatment systems and technologies available, it can be a challenge to make the choice that really reflects your values and priorities.
£14.95